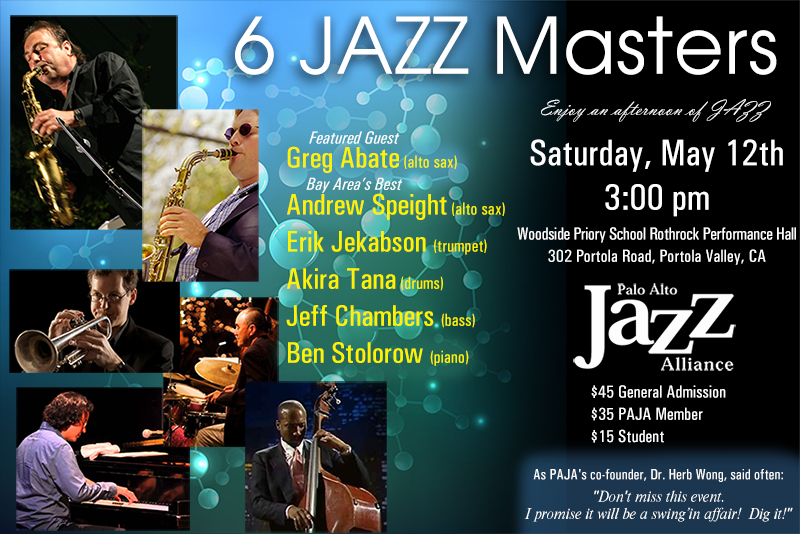 Thank you guys for a great show!!!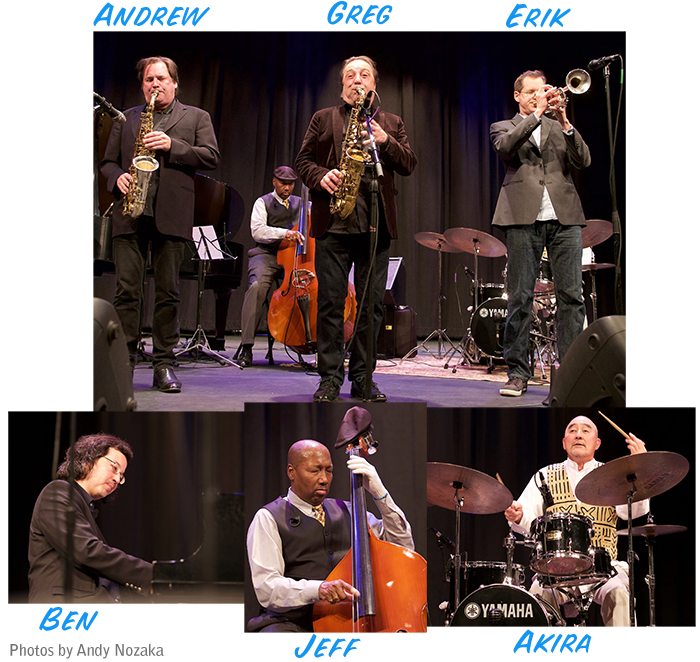 ---
---
MEMBER PARTY—COOL AND CONGENIAL
PAJA's annual free member party on Saturday, October 21, was a grand success.  Wonderful weather, friendly folks, and a really good band made for a delightful afternoon of jazz and socializing.
Our thanks to Kay Kostopoulos, long-time PAJA member, for providing the vocals and fronting the musicians. Kay is reachable at www.blackolivejazz.com.
And as he has many times in the past, Noel Jewkes (jewkesjazz@sbcglobal.net) blew us away with his terrific tenor and other reeds. The man is a marvel and we're lucky to have such a superior jazz artist here in the Bay Area.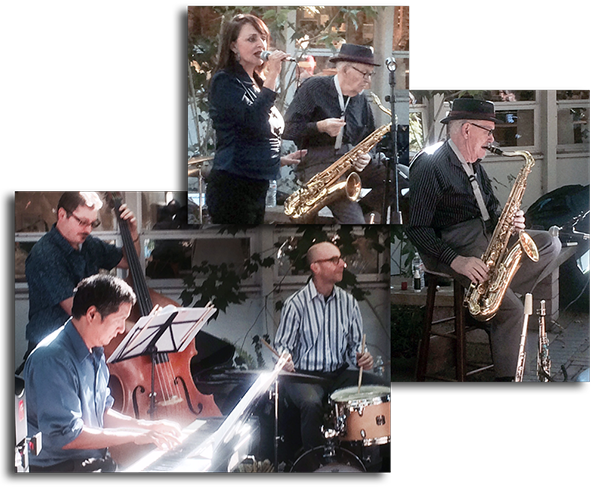 The rhythm section was likewise stellar, and each sideman soloed to great effect. Bravo to Larry Chinn on piano, Dan Robbins on bass, and Jason Lewis on drums.
Fifty to sixty members were on hand for a lovely afternoon. The rest of you PAJA members should really try to make these gigs. The Palo Alto Art Center courtyard is a cozy, pleasant venue, and there's always plenty of wine and other beverages, plus munchies.
Pretty good deal, IMO./ D. Michael Griffin
---
Reflections on The Peter and Will Anderson Trio Concert, September 23, 2017
by Harvey Mittler, Event Chair
The enthusiastic and appreciative audience at the PAJA concert on Saturday, September 23, widely acclaimed the night's activity as an artistic triumph.  They luxuriated in the joyful music presented by Peter Anderson on tenor sax and clarinet, Will Anderson on alto sax, clarinet and flute, and Felix Lemerle on guitar.  The program consisted of favorite songs from the Great American Songbook and the standard jazz repertoire, lesser known pieces by popular composers, and works by lesser known artists, including the 30-year old Anderson twins themselves.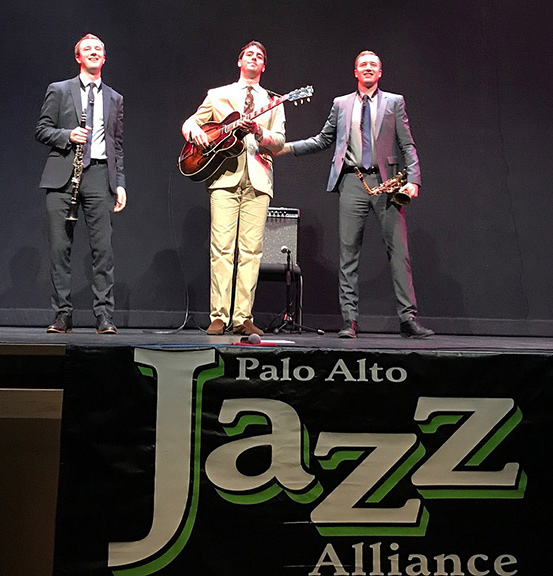 The first set began with three widely known selections, My Favorite Things, I'll Be Seeing You, and My Shining Hour.  Will Anderson back announced them, recognized they were so well known that many audience members probably knew the lyrics and might be tempted to sing along, and promptly displayed his biting wit by acerbically pleading "Don't!"  Next came the beautiful Skylark, and Purple Gazelle, an obscure, Calypso-influenced Duke Ellington tune, and works by two of their favorite, but little known, composers, Blues for Joe, by Will's "older by 10 minutes" twin Peter, dedicated to their recently deceased instructor at Juilliard, Joe Temperley, and Appalachian Mountain Song by Kyle Athayde, a native of Orinda, CA, who now resides in NYC.  Will disclosed that Kyle composed it for the Andersons and a 30-piece string section, and Will congratulated guitarist Felix Lemerle for making good on his claim that he could fill in for the entire string section.  The set concluded with O Grande Amor and a strong version of Cherokee, deftly swung by all.
The second set kicked off with The Preacher, the humorous, funky, hard bop, mid-'50s classic by Horace Silver, and Our Love is Here to Stay.  The trio then played the Bud Powell etude, Bud on Bach, and Skylark.  The mood continued with I Can't Give You Anything but Love, and then perked up with Devil's Advocate and Moonglow.  The evening finished with an upbeat version of I've Found a New Baby.
The Peter and Will Anderson Trio with Felix Lemerle rewarded the audience with a sublime performance, and the prolonged applause indicated it understood what Quincy Jones meant about the Anderons, "You are the dudes of the future.  You have made my soul smile."
PAJA gratefully acknowledges the extraordinary assistance of KCSM-FM, our long-time concert co-sponsor and jazz community broadcast partner, Station Manager Dante Batteo, and the incredible on-air jazz personalities.
PAJA also gratefully acknowledges the contributions of the Sequoia Union High School District, District Administrative Vice Principal Secretary Natasha Rivera, and the City of Menlo Park, especially Recreation Coordinator Matt Milde, for awarding PAJA a Grant for the Arts to host a program at the Center for Performing Arts that presents a cultural activity to the local community.
In its 25th year, PAJA will continue to present jazz to the Peninsula community and fulfill our nonprofit mission to support jazz education.  Keep Jazz Alive!