The November 2022 Jazz Buff can now be accessed on this site.

---
BIRD WITH STRINGS
On October 12, 2019 PAJA presented Andrew Speight's "Bird With Strings"—a brilliant recreation of the famous Charlie Parker With Strings recordings of the 1940s, albums which turned out to be Parker's best-selling records.
Beautiful ballads like "Stardust," "April in Paris," and "If I Should Lose You," with Speight doing Bird's alto solos, backed in this instance by the wonderful Alexander String Quartet (and friends), and piano, bass and drums. The concert, at Menlo-Atherton HS's Center For the Performing Arts, was another artistic success, produced by PAJA's event chair, Harvey Mittler.
Photos by Bebes Miller
---
ANOTHER VERY PLEASURABLE MEMBER PARTY
September 15, 2019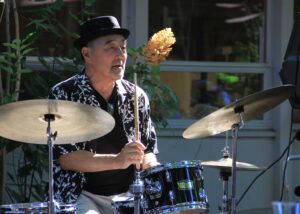 It was a glorious afternoon in the leafy, shaded courtyard of the Palo Alto Art Center. Thankfully the heat wave had let up on this September Sunday (the 15th), 2019 and the musicians—assembled by drummer Akira Tana and PAJA event chair Harvey Mittler—were in splendid form.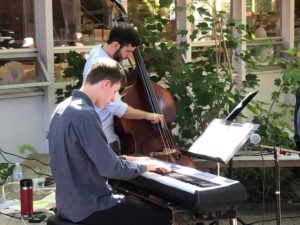 The first group, students from the San Francisco Conservatory of Music's new jazz program, was terrific: Jason Hiyashi (sax), Carter Eng (trumpet), Michael Potter (piano), Chris Carrera (bass), and Robert Chapa (drums).  They treated us to familiar numbers like Monk's "Evidence" and other standards. Particularly effective was "Stompin' At The Savoy," in which they combined some vocalese with their instrumental licks. You're going to hear from these youngsters, especially Eng on trumpet who seems ready for prime time.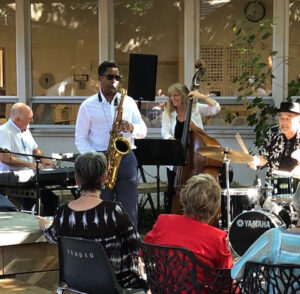 Then a faculty group took over after intermission: Tana on drums, the popular bassist Ruth Davies, Jason Hainsworth on tenor, and Simon Rowe on piano.  Rowe and Hainsworth are top administrators in the SFCM jazz program (RJAM—Roots, Jazz and American Music) and they both have impressive resumés in playing with big names in the business. Wow—a dynamite world class group that grooved on tunes like "Green Dolphin Street" and "Alone Together".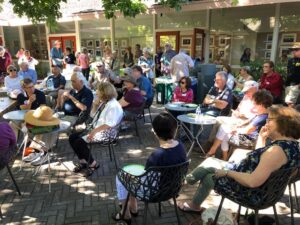 The free member party continues to be a popular PAJA annual tradition, and about 90 members and guests turned up this year.  The wine flowed and the snacks, provided by Shirley Douglas's great volunteers, disappeared quickly. The program certainly  demonstrates how much amazing local talent we have in this area, and we are pleased to have these annual  parties to showcase that talent for the enjoyment of our members.
All Photos above by Elizabeth Miller and Ed Fox

 
---
All photos above by
Karl Robinson
---
PAST EVENTS