PAJA PRESENTS
THE FABULOUS ANDERSON TWINS HEADLINE
PAJA'S SILVER ANNIVERSARY CONCERT
Saturday evening, September 23rd, 7:30pm
Menlo-Atherton Center for the Performing Arts
555 Middlefield (at Ravenswood), Atherton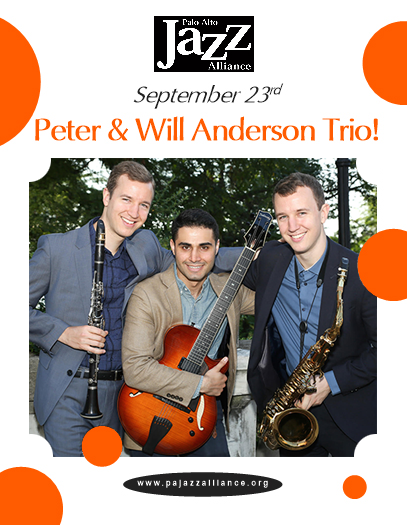 The Palo Alto Jazz Alliance was founded in the fall of 1992, and we have cooked up something special for our 25th Anniversary concert: The Anderson Twins Trio, featuring Peter and Will Anderson, "virtuosos on clarinet and saxophone" (New York Times). Though well known on the east coast, their appearances on the left coast have been fairly rare, and this is an opportunity to see what the rest of the country has been raving about. Please, please, check out their website: www.peterandwillanderson.com and click on "Videos"  to sample their brilliant takes on standards and jazz classics.
The Andersons have performed with the Lincoln Center Jazz Orchestra, the Village Vanguard Orchestra, the Jimmy Heath Big Band, Cecile McLorin Salvant, and many more—at venues like the Blue Note, Kennedy Center, DC's Blues Alley, and the New Orleans Jazz Festival.  Their trio at this coming concert will be completed by guitarist Felix Lemerle.
WHEN: Saturday, September 23, 7:30pm
WHERE:  Menlo-Atherton HS Center For The Performing Arts, 555 Middlefield (at Ravenswood), Atherton. Plenty of free parking in a well-lit parking lot.
Concert proceeds go to the Education Fund of the Palo Alto Jazz Alliance, an IRC 501(c)(3) nonprofit.
"You are the dudes of the future. You have made my soul smile." (Quincy Jones)
GENIUSES AT WORK
Peter and Will Anderson Trio to Headline
PAJA's 25th Anniversary Concert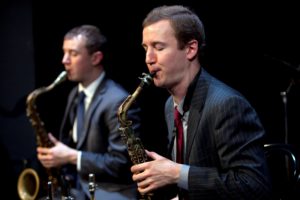 PAJA's Silver Anniversary concert will showcase the Peter and Will Anderson Trio, giving Peninsula jazz fans an opportunity to see the heralded Anderson twins, virtuosos on saxophone and clarinet. They'll treat us to a program of American Songbook classics, a bit of New Orleans, and a few originals. It promises to be the crowd-pleasing, spirit-lifting performance of the year.
Peter & Will Anderson, reeds   *   Felix Lemerle, guitar
Hear these reed virtuosos extraordinaire September 23rd at 7:30 pm
at the Menlo-Atherton Center for Performing Arts, 555 Middlefield in Atherton.
NOTE: Save $10 per ticket by joining PAJA today and getting the member ticket discount. Click on "Join PAJA" for information.