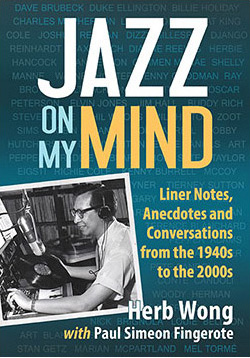 The late journalist Herb Wong covered the Monterey Jazz Festival since its start in 1958. Known for his encyclopedic knowledge of jazz, Wong was also a record producer, educator and radio DJ on the former KJAZ in San Francisco.
Before he died in 2014, Wong co-authored a book with Paul Fingerote. When the two met Fingerote was Marketing Director for the Monterey Jazz Festival for 30 years.
Paul Fingerote developed many valuable associations with jazz royalty.  Fingerote co-authored "Jazz On My Mind" with Herb Wong.
Wong, was a pioneer in jazz education and a prolific jazz journalist, producer and broadcaster.
Purchase at:
Monterey Jazz Festival artists in the book include Dave Brubeck, Billie Holiday, Mel Tormé, Dizzy Gillespie, Jon Faddis, Bola Sete, and Shelly Manne, along with other Monterey-related artists.  Herb Wong knew them all intimately, and these are his intimate stories from the Festival, which he covered from the first Festival in 1958 until last one he was able to cover in 2013.
Editorial Reviews
Review
"Jazz On My Mind is a delightful and substantial addition to jazz commentary, full of the vivid anecdotes and insightful, accessible analysis of the late Dr. Herb Wong, a lifelong enthusiast and acclaimed educator who came to work with and know the musical heroes he depicts here. With exemplary assistance from Paul Fingerote, longtime marketing and public relations director of the Monterey Jazz Festival, Dr. Wong selected and shaped his memories and his earlier writings into a volume that stands tall among those concerning composers and performers of the second half of the 20th century whose sounds will ring forever." –Howard Mandel, president of the Jazz Journalists Association.
"Offers readers a delightful curated vision of America's music genre…. Reading Wong's liner-note prose is a pure joy. His enthusiasm will send you to the record store, and his encyclopedic knowledge will inform your listening. You can read the book from cover to cover, and you'll be tempted to do just that. But it is also perfect for causal reading, and as a reference if you're listening to the music. If you're unfamiliar with jazz music and want a starter's guide, I cannot imagine a better book. This is truly fun to read, a time capsule into another era and even another version of English that you simply won't read or find anywhere else." –Rick Kleffel, KQED, NPR Contributor; Editor, Bookotron.com
About the Author
A DJ at radio station KJAZ for 30 years, the late Herb Wong was a jazz producer, writer, and a pioneer in jazz education.
Paul Simeon Fingerote has worked as a writer and creative director with major ad agencies world-wide. He was marketing director of the Monterey Jazz Festival for more than 30 years. He is an on-air host for NPR radio station 90.3 / KAZU in Monterey, California.